Theatre is art that can be used to save lives. Project Fill the Blood Bank directly addresses the shortage of blood in the North of Nigeria. Ayodele Obatomi and Franklin Zaure, both of the Ahmadu Bello University, Zaria, collaborated with Babatunde Ojobaro, a theatre producer at Ibadan. They used the vehicle of theatre to drive blood donations in the Samaru Community, in Kaduna State, Nigeria.
This is the second edition of an initiative developed by Ayodele. The team believe the collaboration brought new ideas and new perspectives into the project. For this project, Babatunde developed a script and engaged actors to deliver the performance; fliers designed by Franklin were distributed to the Community, encouraging them to attend and donate. The team worked closely with local leaders in the Community, the Government, the University and a Healthcare Centre to deliver the project.
Inspired by the performance, many volunteer donors took part, including from the University community. The team hope that the project will continue for a long time, and are firm believers in using theatre as an engineering force that catalyses change.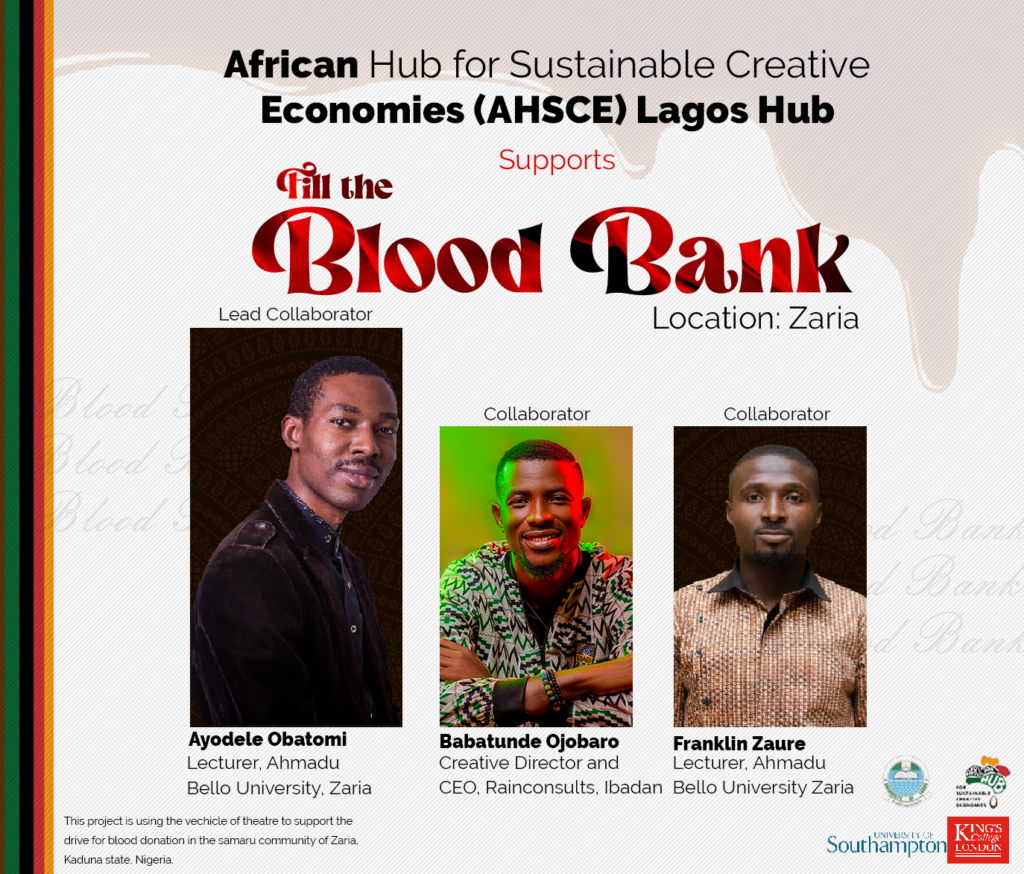 UPDATE: Fill the Blood Bank

PLANNING UNDERWAY FOR PROJECT "FILL THE BLOOD BANK" IN THE SAMARU COMMUNITY OF ZARIA, KADUNA STATE IN NIGERIA By Dr Folakemi Ogungbe The collaboration in between Ayodele Obatomi, Franklin Zaure and Babatunde Ojobaro has been going on seamlessly. Ayodele, the Lead Collaborator, says he has been enjoying the working relationship between the three of them.…

INTRODUCING: "Fill the Blood Bank"

By Dr Folakemi Ogungbe Give! Save! Live! This is the theme for Project Fill the Blood Bank 2022. Ayodele Obatomi and Franklin Zaure, both of the Ahmadu Bello University, Zaria, are collaborating with Babatunde Ojobaro, a theatre producer at Ibadan to roll out a campaign for blood donation in the Samaru area of Kaduna State.…