Written by Vuyo Madyibi (SA Hub Creative Partnerships Coordinator)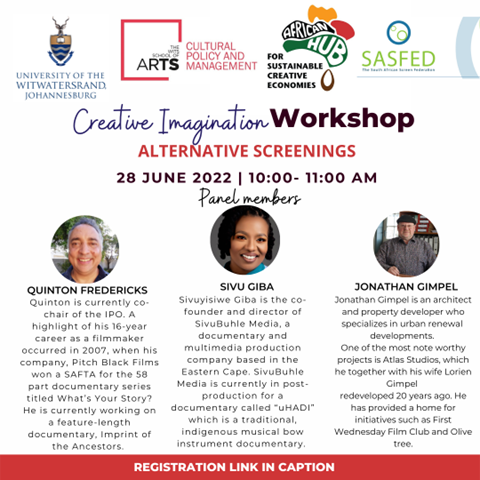 Having identified that young people do not view South African movies with the same appreciation and enjoyment as that of other film content (Nollywood, Bollywood, and Hollywood), there is a need to consider alternative screening options with curated programmes to develop a greater appreciation of local films.
Avril Joffe, our very own creative expert, chaired today's workshop on developing alternative film screening venues with Amy Shelver, Jacqueline Motsepe, Sivu Giba, Jonathan Gimple, Mocke Jansen van Veuren, Neo Monyamane, and Beverley Mitchell participating as guest speakers.
In keeping with tradition, SACO (South African Cultural Observatory) provided industry research findings as part of our opening remarks. Amy Shelver presented insights on SACO's "Towards a Sallywood" study to determine how we can create a "Sallywood" in South Africa. The study identifies audience development as a key component to achieving this and talks about leapfrogging in technology, a quicker distribution pattern, better training, more partnerships, and finally the reinvention of a film society nationally. Providing us with some background context to understand why the film sector is where it is today, she notes that the challenge with film is that it is both a product and a cultural object. Often, when it comes to cultural objects, literacy is necessary to understand what you are experiencing which is why audience development is vital, especially when factoring in technology. Our reality is that the South African audience is still exceedingly small, fractured and culturally divided. T
The KwaZulu-Natal Film Commission's COO, Jackie Motsepe, shared her insights into their audience development programmes. In addition to working with local municipalities in the area and funding local productions and festivals, the KZN Film Commission operates a community screening program, as reported by Jackie Motsepe. The programme reaches rural communities across Kwazulu-Natal in 10 districts, including Durban, Richards Bay, Pietermaritzburg, Harry Gwala, uMgungundlovu, Zululand, Amajuba, and Tugela. Furthermore, the Kwamashu African Film Festival, Kwasukasukela Film Festival in Jozini and Newcastle Amajuba Film Festival are among the festivals they sponsor. These programmes have been running for up to eight years now and the aim is to reach as many audiences as possible in the peripheries of Kwazulu-Natal, says Jackie Motsepe.
Following Jackie's presentation, Sivu Giba an independent documentary filmmaker based in East London addressed the lack of screenings of locally produced documentaries and films in underdeveloped (rural) communities of the Eastern Cape. Despite the growing film industry in the cities, most people live in the rural parts of Eastern Cape and are therefore excluded from audience development initiatives currently underway. She discovered through observation that there are a lot of rich cultural aesthetics within the rural areas. However, nobody understands how to package them, where to screen, where to watch, where to gain the training, and where to gain the information. Before introducing the industry to rural areas, she believes the focus should be on developing the road infrastructure, access to data, and electricity in rural areas. As Sivu points out, the province's film industry is still underdeveloped, and policy has not been established to inform what it entails or develop strategies to develop audiences since most films screened at festivals come from outside the province.
Johannesburg's Atlas Studios founder Jonathan Gimple spoke of their former First Wednesday Film Club, where local and international films were screened and filmmakers were able to network, debate and learn from each other. The club ran for 15 consecutive years and was a success, even becoming popular amongst filmmakers in Johannesburg. However, it has been closed since the beginning of Covid-19 and has not been re-opened ever since. He is working on reviving the club to go back to old Cheese and Wine, building the vibe, and revitalizing the creative industry again because it has gone through a bad place. We certainly look forward to these Cheese and Wine sessions all over again Jonathan.
During their presentation, Mocke Jansen van Veuren, Prince Massingham, and Neo Monyamane discussed their Kliptown and Eldos Digital Film and Arts initiatives. They have been working with local Kliptown residents to shoot films within the community. Using nostalgia to depict Kliptown as it was once, Prince Massingham set the tone. The St Susie cinema, which was the hub of artistic creativity in Kliptown showing films and hosting concerts, has degenerated into a degenerate, decayed space. He recalled how it used to be a hub of cultural activity that brought people of different races together. As a result, Beehive Worx has cleaned up the space and screened films shot in Kliptown with community members. The importance of including community members in the filmmaking process was highlighted by Neo Monyamane. He believes that the biggest injustice is the lack of Kliptown filmmakers in films like Drum and Tsotsi, which were shot in Kliptown. Mocke Jansen van Veuren described their first successful screening experience of Die Matras, written by Prince and directed by Neo as "incredible." He believes the involvement of community members in the creation of a movie is a transformative experience.
Beverly Mitchell runs a Young Filmmakers Program, which is an after-school anti-gang intervention in Cape Town trying to keep young kids off the streets. Children are taught camera skills, sound techniques, make-up techniques, and acting through this initiative. In her opinion, what is important is the content that is being created, which will instil in young people the strength of finding their voices and telling their authentic stories, because that will resonate in their communities.
In today's session, we heard a variety of presentations related to the topic of alternative screening venues as a means of reaching a larger audience. As always, we would like to thank our special guests, Amy Shelver, Jacqueline Motsepe, Sivu Giba, Jonathan Gimple, Mocke Jansen van Veuren, Neo Monyamane, and Beverley Mitchell, for their generosity and sharing this information with us. Thank you to our international partners, Dr Roberta Comunian at Kings College London, and Southampton University. Our continental partners, the University of Nairobi, and Lagos University. Lastly, we thank our local partners; the South African Cultural Observatory, the South African Screen Federation, and the Tshimologong Digital Precinct.
The full workshop programme can be downloaded here below.