The African Hub for Sustainable Creative Economies is pleased to announce the publication of the final impact report of the project. The report is now available open access and can be downloaded here: bit.ly/AHSCE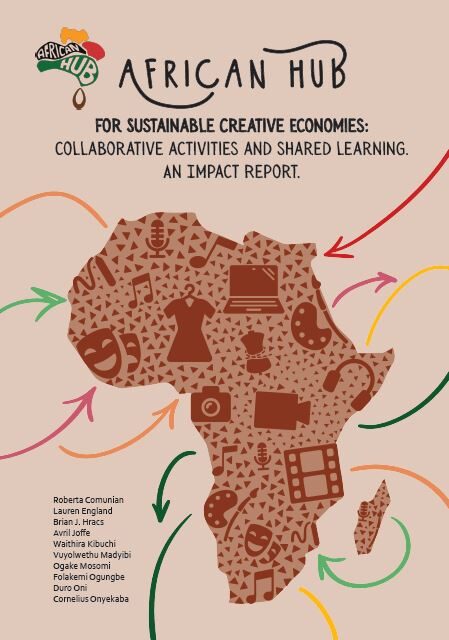 The report critically reflects on the collaborative activities, impact and shared learning that emerged during a two-year international follow-on grant funded by the Arts & Humanities Research Council (AHRC) in the UK (AH/W00688X/1).
The African Hub for Sustainable Creative Economies project (AHSCE) was proposed and established to support the development of sustainable creative economies in Africa by engaging African Higher Education Institutions (HEIs) and empowering them to interact with their local creative economies.
The report highlights the collaborative activities and journey undertaken with our international academic team across King's College London (UK), University of Southampton (UK), University of Nairobi (Kenya), University of Lagos (Nigeria) and University of Witwatersrand (South Africa). It illustrates the ways in which each African partner – supported by key intermediaries and sector partners – engaged with their respective creative sectors: Fashion, Theatre, and Film and Digital Media. In each country and sector, we built bridges with creative practitioners, intermediaries, academics, graduates and policymakers through a series of online events (Creative Imagination Workshops) and launched a small grant initiative (Collaborative Voucher Scheme) to support 25 creative projects that showcased creative collaborations and engagement with the UN Sustainable Development Goals (SDGs) while also providing valuable knowledge about the value of collaborations in creative economies to the academic partners, participants and wider community.
Important policy reflections are shared about the importance of funding and business support; enhancing knowledge and skills; protecting creative workers, valuing creative careers and celebrating and supporting creativity. The role of the Knowledge Hub, which developed via the website, YouTube channel and social media accounts associated with the project, is also highlighted. Indeed, part of the project's legacy is the ability to share knowledge about creative economies in Africa in the years to come. Finally, the launch of a new Africa-Europe Clusters of Research Excellence (CoRE) on Creative Economies: Cultures, Innovation and Sustainability with the support of the African Research Universities Alliance (ARUA) and The Guild of European Research-Intensive Universities (The Guild) will enable further fruitful collaborations and knowledge sharing in the years to come and continue to build capacity and impactful research to address future challenges.