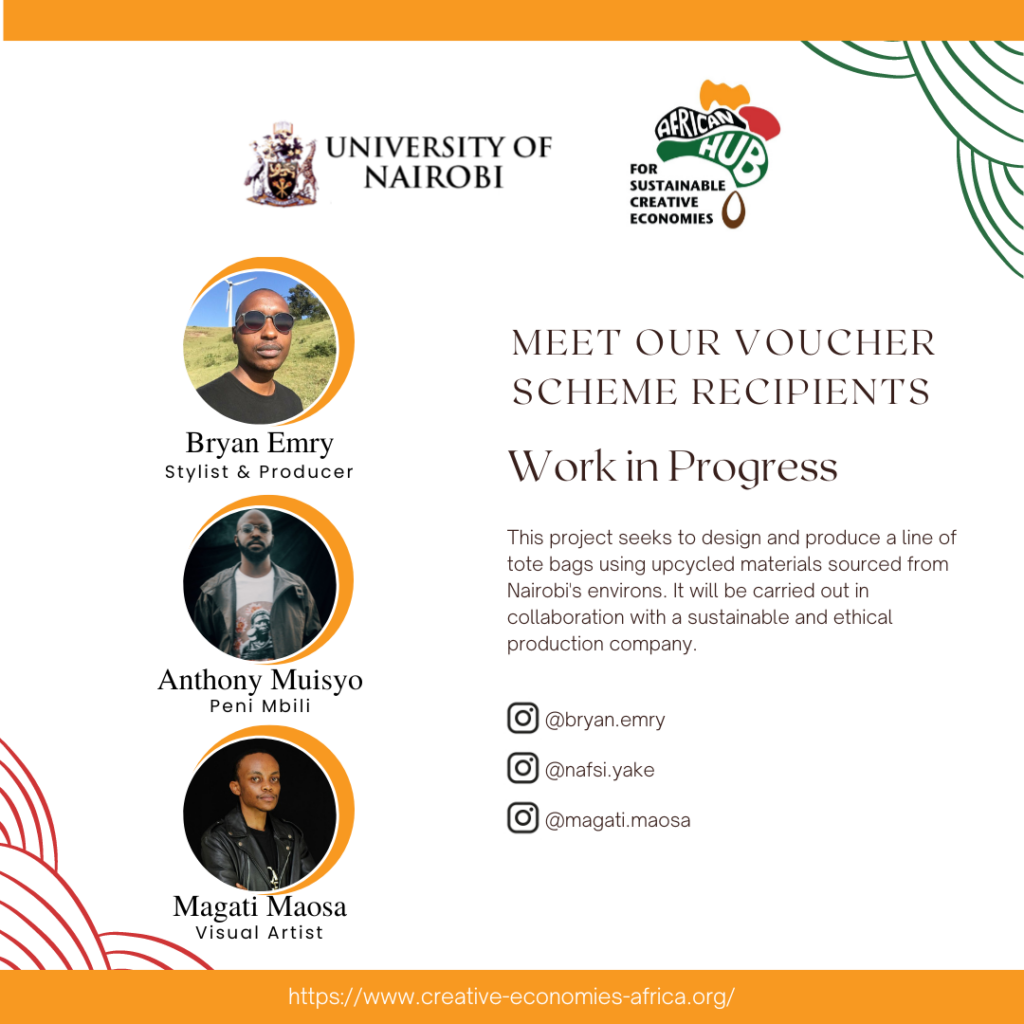 By Waithira Kibuchi
When the ban on single-use plastic carrier bags in Kenya came into effect in 2017, the move met uproar and disbelief from both manufacturers and consumers. The former lamented the loss of income and jobs, while the latter regretted the loss of convenience. These carrier bags were cheap and easily accessible, but they were also non-biodegradable, which meant that they littered the landscape and clogged drainage systems during the rainy seasons. The ban was upheld despite objections from all quarters, and now, five years later, some of its effects can be traced in the rise of one particular item: the tote bag.
The word "tote" in popular usage denotes the act of carrying a heavy load. A tote bag, therefore, refers to a typically large, unfastened bag with parallel handles made of stiff cloth such as canvas or jute. Newer, more common versions are made from easy-care synthetics and recycled materials. These bags are reusable, versatile, and relatively easy to make, and consequently, easily customisable and adaptable. These qualities make them a favourite for brands looking to provide their clients with an accessible entry point into their world. Individuals, on the other hand, use them to make personal statements about how they perceive themselves – who they believe themselves to be, what their values and beliefs are, and what they aspire to.
With this in mind, Bryan Emry, Anthony Muisyo and Magati Maosa came together to create Work in Progress, a collaborative venture that seeks to design and produce a line of tote bags using upcycled materials sourced from Nairobi's environs. Bryan is a fashion stylist and aspiring filmmaker. He has styled multiple celebrities and notable personalities within the creative space, worked with fashion brands to produce content and consulted on advertisement campaigns, television series, and movies. Anthony is a digital artist who explores the foundational, yet oppositional substance of life through his work. His compositions render several nostalgias in sharp contrast – whether between colours, times, media, or realities. Magati is a multidisciplinary visual artist working with painting, film, still, animation and GIF art. He uses character traits and ideas from non-binary characters to tell stories that explore themes of time and location.
Bryan, Anthony and Magati have previously worked with each other in various capacities in the creative industry. For Magati, this project offers an opportunity to delve into the process of translating a digital concept into a tangible object and subsequently leveraging that into a brand. Anthony has been running his streetwear brand, Peni Mbili, and would like to expand his offering. The project offers an opportunity to learn more about bag development. Bryan is particularly interested in guiding and observing the merging of diverse creative perspectives to arrive at a singular product.
The tote bags will be constructed from end-of-line fabric and other materials from various markets around and within Nairobi. The bags will be produced at a sustainable and ethical production company. Using materials that would otherwise be discarded and working with a local production facility contributes to the project's sustainability. The team intends to create a unique, durable accessory that can be used by as wide a population as possible, further contributing to a circular economy. Magati points out that the mobile nature of the tote bag allows for longer and more intimate interactions with its user, unlike static forms of visual art such as wall paintings. It offers infinite probabilities for artistic expression.
Work in Progress is fundamentally about using digital art to imbue a functional day-to-day object with layers of meaning, defining who we are, where we are from, and the times we are living in. It will create impact through collaboration, local sourcing, and production, and provide a model for further collaborations between Bryan, Anthony and Magati. The AHSCE is pleased to sponsor the project and looks forward to its outcome.