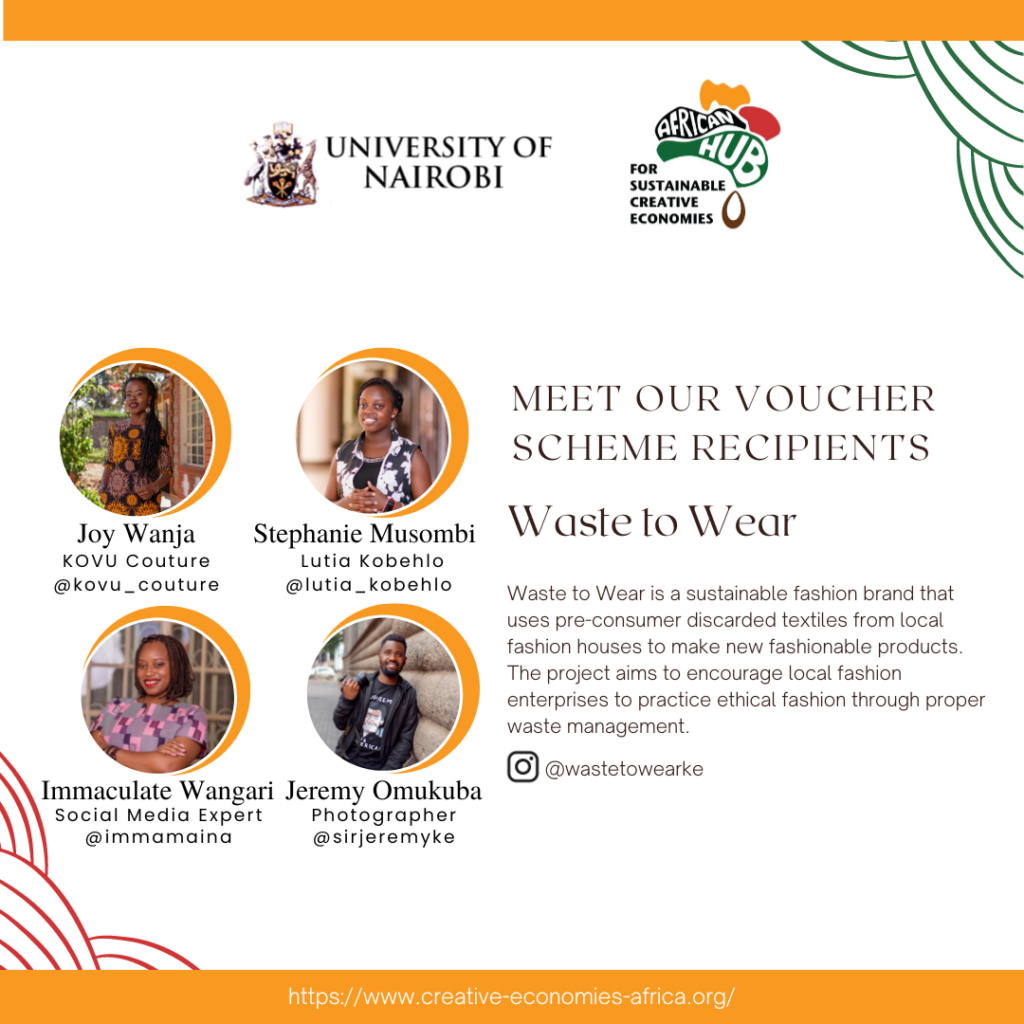 By Waithira Kibuchi
Textiles are an indispensable part of human life. We use them to dress our bodies and our environments and have become so accustomed to their presence that we often take them for granted. If you are reading this now, you are most likely wearing clothing, and are in a room with upholstered furniture and/or drapings, but may never think about how these materials came to be.
Textiles generally fall into two categories, knits and wovens. Knits are created by interlocking yarn together with long needles, while wovens are produced by meshing two sets of yarn, that is, the warp (vertical) and weft (horizontal). Both methods are labour-intensive. They require multiple agents to carry out a process that spans the growth, harvest and preparation of fibre, yarn spinning, dyeing, finishing, and weaving or knitting. Unlike knit fabrics, which can be fashioned directly into a garment (think knitted sweater), woven fabrics must undergo a further process before use. The fabric must be spread, cut, bundled, and sewn, and the garment pressed and finished. This makes woven fabric uniquely versatile but also means that a sizeable amount of material is left over after garment construction. This material consists of irregularly shaped and sized offcuts that are difficult to use for new products. Clothing and furnishing producers collect these pieces, and, at a loss for what to use them for, dispose of them. Where do these leftover materials go?
This question led to the creation of Waste to Wear, a sustainable fashion brand that uses pre-consumer discarded textiles from local fashion houses to make new fashionable products. The project is a collaboration between Joy Wanja, Stephanie Musombi, Immaculate Wangari and Jeremy Omukoba. Its concept came to Joy during the second Creative Imagination Workshop on Fashion, Entrepreneurship, and Innovation. She designs and produces women's custom clothing under her brand, Kovu Couture, and had been storing leftover textiles for three years. She realised that, like her, multiple small-scale brands were producing garments locally and might be facing a similar problem. Having conceived the idea, she recruited Stephanie, Lead Designer at Lutia Kobehlo, to collaborate with her on the design work. She also brought in Jeremy, who is a photographer and content creator, and Immaculate, who is a social media expert, to document the production process and create communication materials for their social media channels.
Like Joy, Stephanie, Immaculate and Jeremy are all in the initial stages of their career. They were in search of a common goal that would invite a fresh perspective to their work when the AHSCE Collaborative Voucher Scheme came to their attention. For Joy, the project offers the opportunity to break beyond her daily routine and create an entirely novel product. Stephanie is passionate about research and sustainability, and this project blends the two subjects superbly. Immaculate comes from a world where her impact is measured in terms of sales revenue and finds it refreshing to direct her communication skills towards making a difference in the community. Similarly, Jeremy looks forward to highlighting what can be created using what is often designated as waste.
The textile and apparel sector can provide mass employment across low to high-skill sets, and its potential to enhance Kenya's industrialisation efforts is well recognised. As various stakeholders gear up to increase the industry's capacity, we must also think of ways in which we can sustainably produce and consume textiles. Waste to Wear advocates for a distinct perspective on leftover textiles and challenges the fashion industry to consider how they may manage these resources more sustainably. The AHSCE is proud to support Waste to Wear and looks forward to the outcome of the project.