By Waithira Kibuchi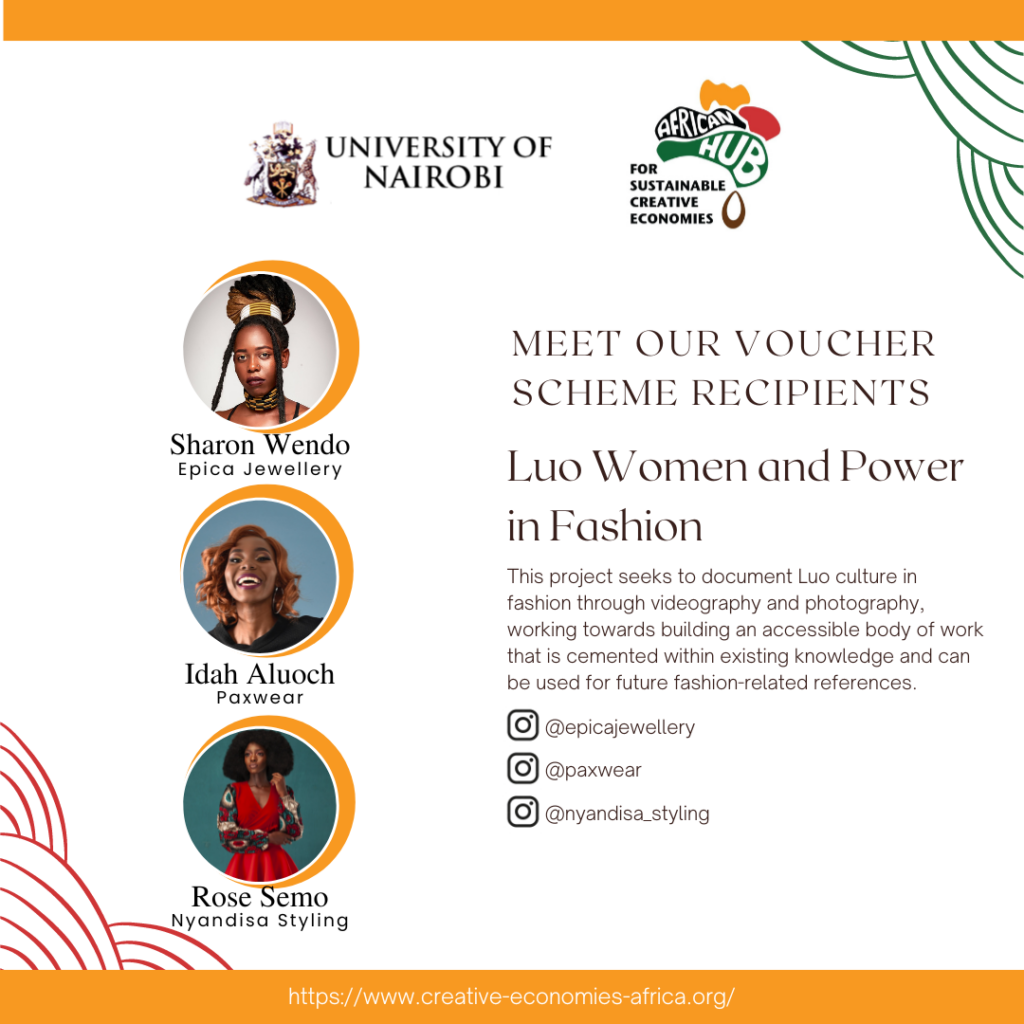 What comes into your mind when you hear the word 'Luo'? Many people think of flamboyance and elegance, and popular urban myth designates 'Luo' not as a community, but as a lifestyle. The Luo are a Nilotic-speaking people who make up the fourth largest ethnic group in Kenya. They are also renowned for advanced tailoring skills in the garment industry. Given this connection between clothing, adornment, and the community, it was disconcerting to the team behind 'Luo Women and Power in Fashion' to realise that they, a group of three women of Luo heritage, have mostly relied on a generalised African aesthetic to inspire their work so far, as a result of the limited availability of visual material on Luo culture and heritage.
'Luo Women and Power in Fashion' seeks to document the Luo heritage in fashion through videography and photography, working towards building an accessible body of work that is cemented within existing knowledge and can be used for future fashion-related references. The team consists of Sharon Wendo, the jewellery designer behind Epica Jewellery, Idah Aluoch, the designer behind the swimwear brand Paxwear, and Judy Rose Semo, the stylist and costume curator behind Nyandisa Styling. Sharon will design beaded accessories to adorn models dressed in swimwear provided by Idah, and Judy will bring the looks together adding props such as headpieces, feathers, animal skin, cowrie shells, horns and woven baskets. The team will travel to Kisumu with their photographer, Fred Odede, and shoot six looks within the city and around Lake Victoria.
Sharon and Judy previously collaborated on a shoot for Epica Jewellery. The two of them struck a rapport and find it easy to work with each other. Sharon and Idah, on the other hand, met on set during a recent Miss Kenya campaign shoot. They were there to provide items for the shoot, but they knew they wanted to take their interaction further and were looking for an opportunity to collaborate on a new project. 'Luo women and Power in Fashion' came about while the three of them were bouncing ideas off each other in response to the call for applications to the Collaborative Voucher Scheme. Their brands and skills complement each other superbly – Epica's bright and vibrant jewellery stands out against Paxwear's solid-coloured swimsuits, and Nyandisa Styling curates the props and outfits to tell a cohesive story. Fred is adept at incorporating traditional perspectives into contemporary fashion to create strong visual compositions with compelling stories.
The team feels particularly aligned on the vision and looks forward to not only getting new collections out but also creating awareness for their respective brands, building credibility and increasing their sales revenue. They also hope to highlight the traditional use of sustainable, locally sourced materials such as sisal, cow horn and feathers for adornment and decoration. Judy calls attention to the growing appreciation for an aesthetic inspired by the peoples and traditions of Africa, popularised by its use in music videos by international celebrities such as Beyonce. They hope to showcase the origin of some of these aesthetics and capture the attention of all people of African descent, both at home and in the diaspora.
This project also offers an opportunity to reflect on and highlight how their culture has inspired their journeys. Idah, for instance, recalls swimming in Lake Victoria naked, as a child, and later on, being astonished at seeing people on TV wearing swimsuits when going swimming. She leaned on this inspiration to build her swimwear brand, Paxwear, and is keen to go even deeper to explore the influence of her cultural heritage on her work. She believes that the power of this project is in that it will allow them to tell their stories in their own way. They also look forward to speaking with women living in Kisumu regarding their culture and understanding things from their perspective. Has the culture diminished in the face of current fashion trends? How can they ensure continuity?
For Sharon, Idah, and Judy, 'Luo Women and Power in Fashion' is merely the starting point of their process of documenting Luo culture and ensuring the continuity of their knowledge and skills. It will yield rich information that will benefit not only their creative practices but also the wider fashion industry. The AHSCE is excited to fund this journey of self and community discovery and looks forward to learning more about how collaborations between creative entrepreneurs work.