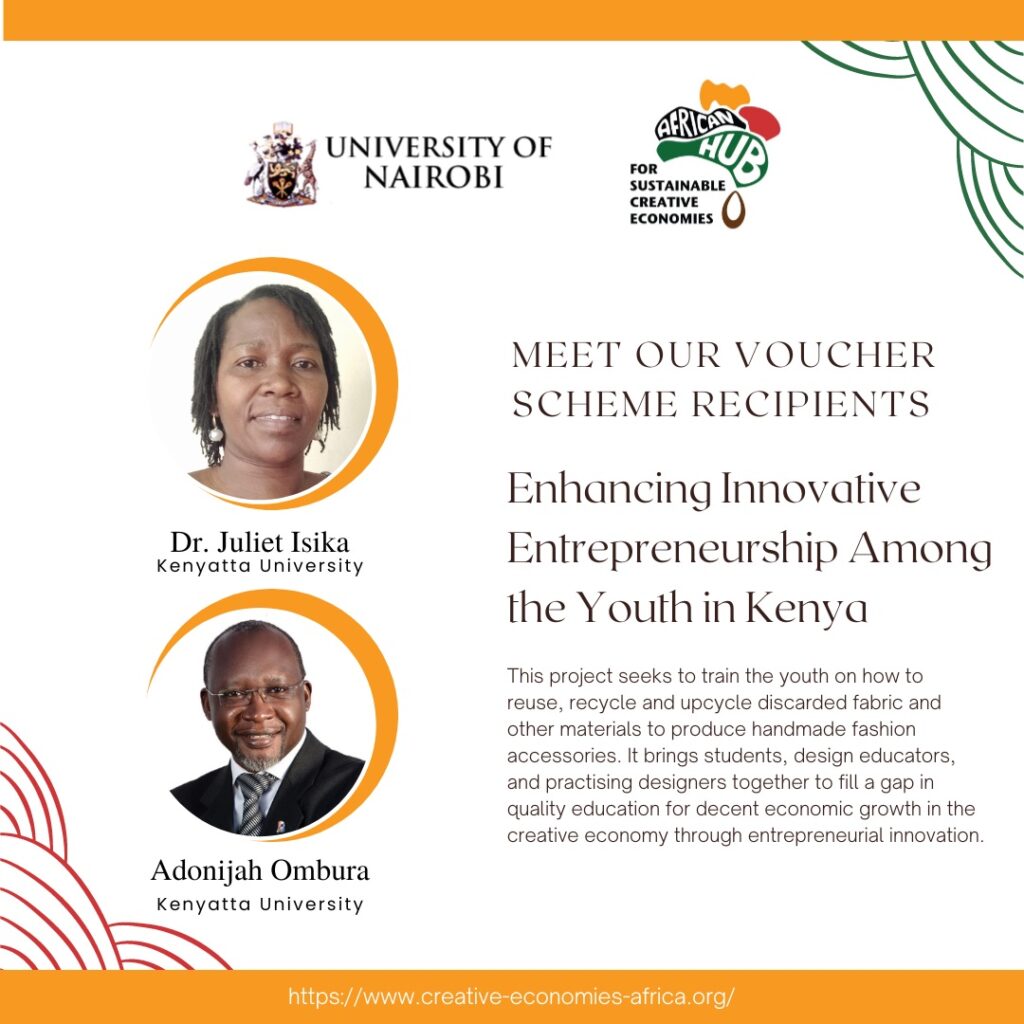 By Waithira Kibuchi
The Kenyan economy, whose GDP accounts for 40% of the East African Community's GDP, is often touted as an anchor in the region. This may be linked to factors such as the country's relative political stability and a market-based economy. The country is renowned as a technological and financial hub and it boasts higher adult literacy rates, a strong and dynamic private sector and better access to energy, infrastructure, and services such as mobile banking*. It can be disconcerting, therefore, to discover that, at 13.8%, the country outranks its neighbours Uganda (4.3%) and Tanzania (4.6%) when it comes to the youth unemployment rate **.
This issue was front of mind for Dr Juliet Isika and Mr Adonijah Ombura, the team behind Enhancing Innovative Entrepreneurship among the Youth. Both Dr Isika and Mr Ombura are lecturers at Kenyatta University. Dr Isika specialises in garment pattern-making techniques and creative fashion design at the Department of Fashion and Design, while Mr Ombura specialises in textile design at the Department of Fine Art. Their project was selected for funding under the African Hub for Sustainable Creative Economies (AHSCE) Nairobi Voucher Scheme. It seeks to train the youth on how to reuse, recycle and reduce discarded fabric and materials to produce handmade fashion accessories. The project brings students, design educators, and practising designers together to fill a gap in quality education for decent economic growth in the creative economy.
Dr Isika and Mr Ombura have known each other since Dr Isika enrolled as a student at Kenyatta University. Mr Ombura taught several of her classes and, even then, could notice Dr Isika's commitment to her work. They have previously collaborated on a product development training project conducted by the Handloom Weavers Association (HAWESA), and work very well together. They are always on the lookout for opportunities to develop new perspectives within their field of interest and share what they have learnt with others, and the AHSCE Collaborative Voucher Scheme fit the bill perfectly.
The development of textile products is a complex and multi-layered assembly process. Details such as fibre composition, construction technique and washing process affect the length of use and must be considered when designing the product. This holistic approach ensures that products don't lose their design or shape when put into use. It is this skill that Dr Isika and Mr Ombura are looking to impart to their students, elevating their skills beyond designing from a purely aesthetic point of view. They also believe that creatives must transcend limiting notions of talent and develop their business and marketing skills to get their products into the hands of their customers. This enables them to go beyond being mere innovators to become entrepreneurial innovators.
The team is also looking to address issues of sustainability and environmental conservation in product design and development through this project. Mr Ombura offers that identifying discarded textiles as a resource, rather than waste, opens designers up to new possibilities for upcycling and recycling. The use of such materials is also relatively less capital-intensive and offers a more accessible way for the youth to create products and earn income from selling them. He is particularly interested in product design strategies for micro and small enterprises, and acknowledges that this project fits in squarely with his role as a teacher, researcher, and connector.
Similarly, Dr Isika believes that the right product development strategy blends skill with discarded materials to elevate them beyond the misguided notion of waste. She points out that creating fashion accessories from discarded fabric, metal, and wood offers an excellent opportunity to be more artistic than prescriptive. The latter is often required when designing into a pre-set design brief. They both look forward to attaining new perspectives on product development strategies for extant resources and incorporating them into the academic curriculum.
In conclusion, Enhancing Innovative Entrepreneurship among the Youth is about creating linkages between discarded material, human resources and the market, through product design development. Dr Isika and Mr Ombura hope to address issues of sustainability through their work and empower the next generation of creators by imparting product development skills and connecting them to industry practitioners. They hope that the training becomes a springboard for new enterprises within the community.
The AHSCE is delighted to support Enhancing Innovative Entrepreneurship among the Youth and looks forward to seeing innovative products, systems and processes come to life!
*Africa's Powerhouse: https://www.brookings.edu/opinions/africas-powerhouse/
**Unemployment, youth total (%of labor force ages 15-24) (modelled ILO estimate):https://data.worldbank.org/indicator/SL.UEM.1524.ZS?locations=KE