Written by Dr Folakemi Ogungbe Creative Partnership Coordinator AHSCE Lagos.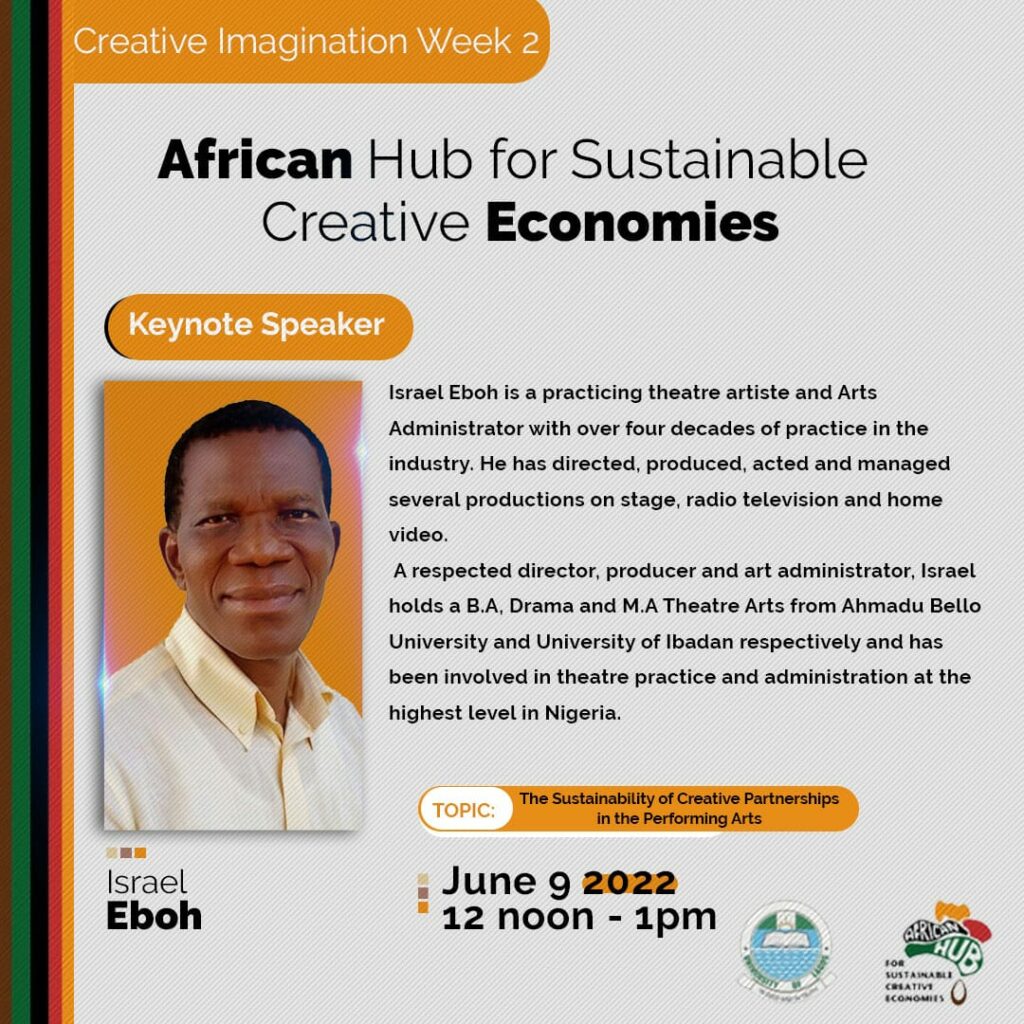 On the 9th of June, 2022, the Lagos Hub of the AHSCE held its third virtual event with the theme: the sustainability of creative partnerships in the Performing Arts. Mr. Israel, Eboh, the president of the National Association of Nigerian Theatre Artistes (NANTAP) gave the keynote. Mr Israel Eboh, who has four decades of cognate experience as a Theatre producer, director, businessman and Arts Administrator, gave us an insightful keynote that stems from his rich and varied experience.
Mr Eboh spoke on the difference between sponsorship and collaboration. He reiterates that while sponsorship is merely looking for handouts from the government and corporate bodies in order to fund a performance, collaboration is more structured and tailored towards business excellence. He explains that collaboration is at the heart of show business.
Going by the nature of theatre itself, which is collaborative as the show and the business must mix in order to record a success. Israel Eboh stated that for a theatre producer to be ready for business, he has to seek collaborations that ensure a win-win situation for all parties. The business must break even and ensure that all parties must well catered for.  
NANTAP as a body is working on creative intermediaries that ensure that creative collaborations are structured as this will ease the burden of finding a worthwhile and trustworthy partner from a myriad of individual theatre companies. It is important also for creatives to understand the legal framework, policies and infrastructure in place, that will ensure seamless and worthwhile collaborations. 
Also present at the event were Segun Adefila of Crown Troupe of Africa, Omo'Ba Jerry Adesewo of Arojah Theatre, Seun Awobajo of Kininso Theatre, Thespian and Ace Director Makinde Adeniran and theatre producer, Charles Ukpong as well as academics such as Dr. Maureen Udeji of Madonna University, Dr. Kayode Kofoworola of the department of English, University of Lagos and Dr. Israel Wekpe.
Dr. Brian Hracs of the University of Southampton hosted the event alongside the Lagos team consisting of Prof Duro Oni, FNAL, Dr. Cornelius Onyekaba and Dr. Folakemi Ogungbe. The meeting was interactive, eye-opening and is at the core of the purpose of the AHSCE, which is to foster creative partnerships, across board, in Africa.