Written by Waithira Kibuchi, Creative Partnership Co-ordinator, AHSCE Nairobi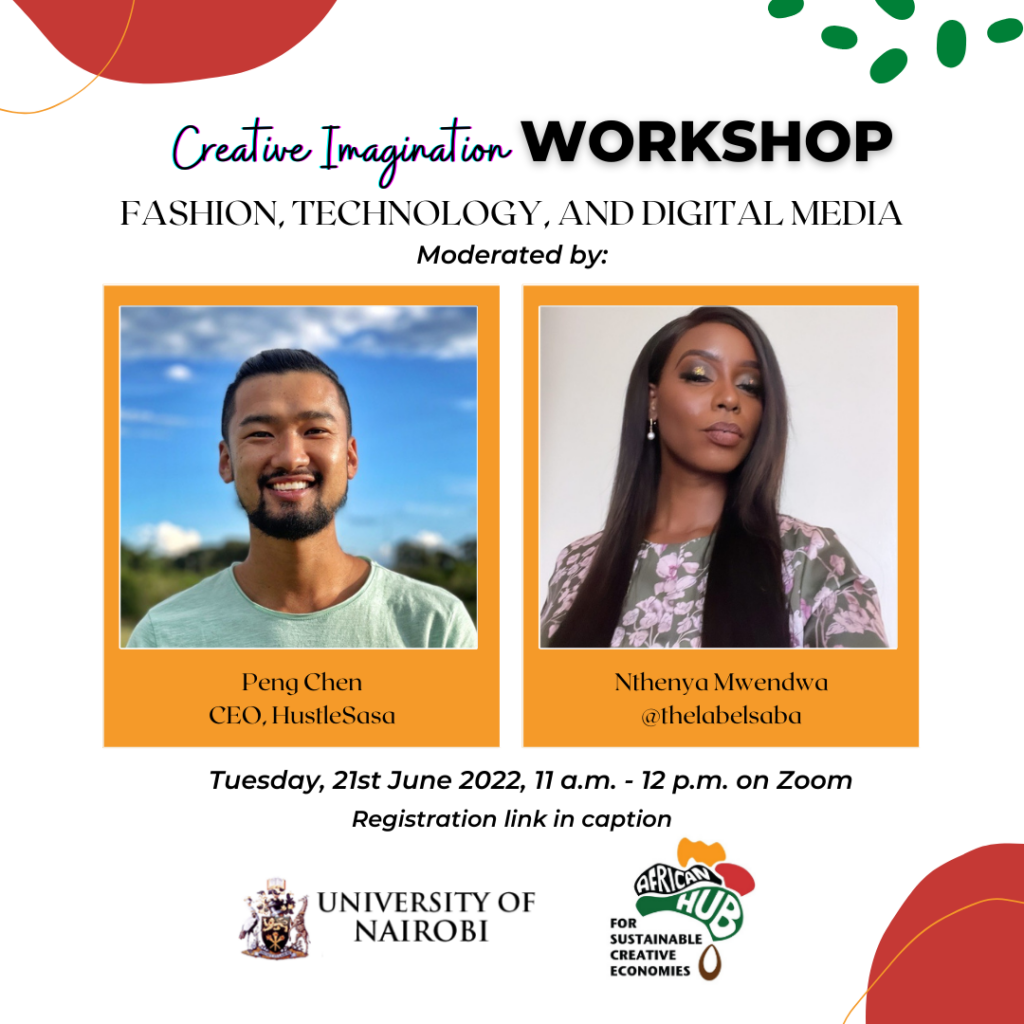 The final themed workshop held on the 21st of June, 2022, reflected on the role of technology and digital media in the fashion industry in Kenya. The session was moderated by Ms Ogake Mosomi and featured two guest speakers. Mr Peng Chen is the Co-founder and CEO of HustleSasa (@hustlesasa), a mobile app that makes it easy for creators to sell directly to their fans. Ms Nthenya Mwendwa is the founder and designer of an emerging luxury leather bag brand known as The.Label.Saba (@thelabelsaba). The brand merges fashion and sustainability by working with Maasai women and raw materials such as fish leather.
The rise of e-commerce and online marketplaces has made it possible for creators to produce items locally and ship them to both local and global audiences. Virtual platforms are associated with a significantly lower operational cost than brick and mortar retail and offer an unprecedented opportunity for creators to amplify their brand story and curate niche brands. HustleSasa, a 'Shopify' for Kenyan creators, allows them to set up their store with just their phone and email address and sell any combination of products, whether physical or digital, goods or services. Virtual platforms such as HustleSasa that offer a direct connection between creators, their customers, and suppliers, contribute to sustainability by eliminating the need for intermediaries who often make the value chain longer and increase the cost of business.
The role of recent technology such as NFTs was discussed. NFTs (Non-Fungible Tokens) are non-replicable digital tokens or assets that that represent ownership of real-world items such as art, music, videos, and photographs. Ms. Mwendwa's NFT collection, for instance, is made up of five different artworks called Binti, created to mirror the women involved in making her bags. These NFTs have unlockables, meaning that when you buy an artwork, you gain access to a bag.
Mr. Chen indicated that only 1 – 3% of people who visit a website end up purchasing an item. He recommends that creators should focus on implementing processes rather than achieving pre-set online sales targets. Optimum processes ensure that as many people as possible visit the website and interact with the brand and its story, which converts into sales. Absolute sales targets, while important, may not provide insights for the business on factors such as customer behaviour and product-market fit. It is also crucial for creators to distinguish between followers and customers and have an in-depth understanding of their customer profiles. What are their needs, their pain points, and their spending power?
In conclusion, technology is simply an enabler of manual business processes, and cannot replace the personal human touch. "It may make the flame of your brand burn brighter, but won't light the fire for you," Mr Chen stated. Ms Mwendwa's experience at the Oscars Gifting Suite earlier this year corroborates this perspective. Local clients, who may have initially baulked at the luxury pricing of her bags, are now willing to make a purchase. The brand is now credited as a luxury brand due to its personal interaction with high profile personalities at international expos. Creators must put in the work to understand their customers, create a product that meets their needs, and build a relationship with them – and only then introduce technology to make their processes more efficient. This is what truly sets a brand apart.
Links to websites:
hustlesasa https://hustlesasa.com/
The.Label.Saba http://www.thelabelsaba.com/