Written by Waithira Kibuchi, Creative Partnership Co-ordinator, AHSCE Nairobi.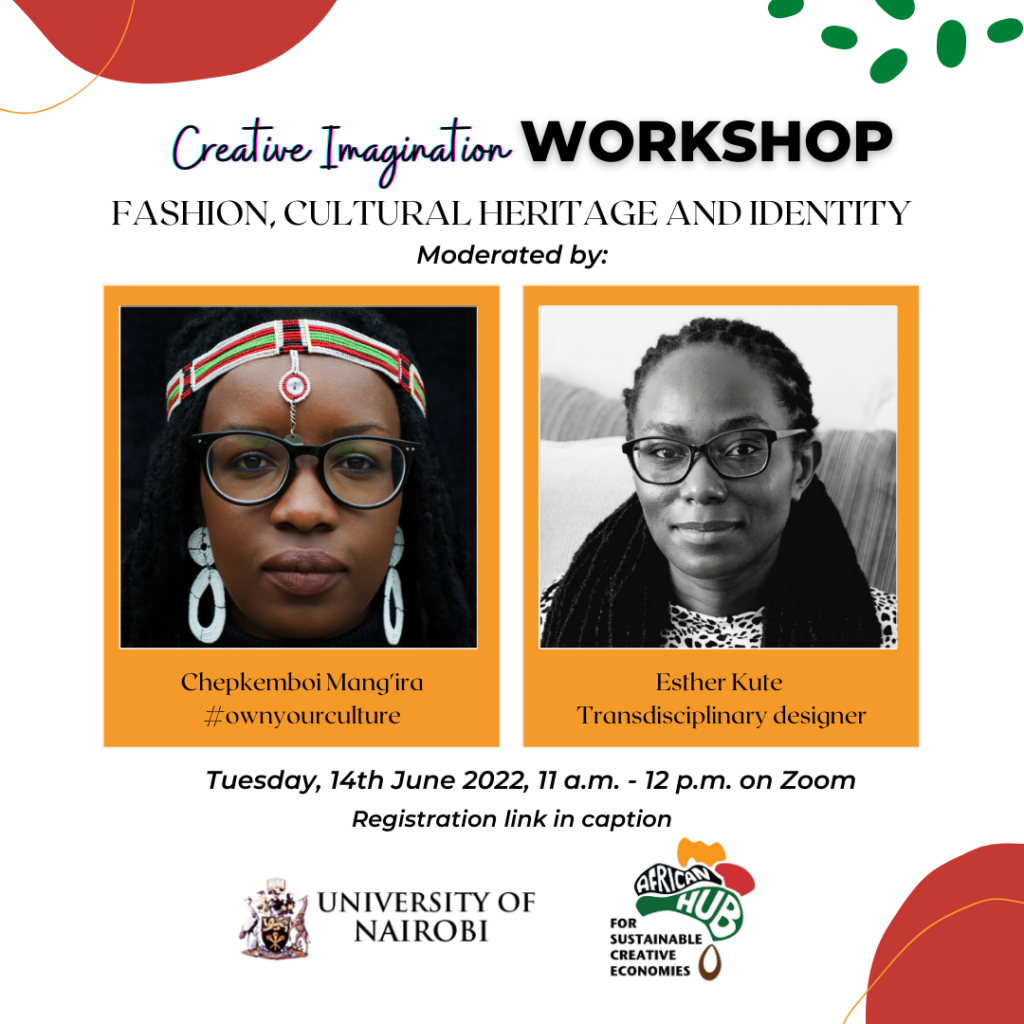 The first themed event held on the 14th of June, 2022 was focused on Kenyan cultural identity and heritage in fashion. The session was moderated by two guest speakers. Ms. Chepkemboi Mang'ira is a fashion artist and writer working to decolonise fashion by showcasing traditional Kenyan heritage in fashion through her platform, Own Your Culture (@ownyourculture).
Ms. Esther Kute is a published author and doctoral researcher, currently teaching at the Technical University of Kenya. Her work seeks to change the world one step at a time through design, manufacturing, education, and mentorship.
It was pointed out that there is a wave of Pan-Africanism sweeping across mainstream culture. Africans want to hear their native music, see their real hair, skin tones, and body sizes, and see the beauty in themselves and their history. Fashion has always existed within our communities. What we wear is not just a medium of self-expression, but also traditionally served as an identifier of an individual's region, clan, marital and social status. It is imperative for Kenyans and Africans in general, to redefine fashion for themselves, considering their historical context.
While different Kenyan communities had different dress customs, some elements such as beading cut across the board. Incorporating beading into contemporary clothing is therefore one method of reclaiming our cultural heritage. One key insight that emerged was that what is considered 'traditional' today was popular culture during its time. As such, the work of designers is to create products that reflect their present lives and experiences.
The quest for the Kenyan national dress was also discussed. The national dress, unveiled in 2004 after a competitive process, featured references from diverse Kenyan communities, but the public never adopted the garments. It was suggested that the reason for this was that designers paid too much attention to the form of the garments, and ignored opportunities presented by their context, which would include aspects such as print. Culture is both form and context, but the context may very well carry more weight. Form is mutable and changes based on the resources available in the environment. It has been and might continue to be, difficult to create one garment that at once represents all the dress traditions of all of Kenya's communities. However, there exist unique markers of Kenyan culture both at home and in the diaspora. The Kenyan bracelet is one, and so are @peperukaworld's merchandise and @kenyandictionary's posts on Instagram that feature 'Kenyanisms' (phrases used by Kenyans in speech).
What is lacking in the context of fashion in Kenya is extensive documentation of cultural production. Fashion designers tend to favour visual representation over written text, and as a result, there is a shortage of published historical and contemporary information on Kenyan fashion. Collaboration and peer-to-peer networking are some of the ways in which designers and academics involved in the fashion industry can begin to bridge this gap.
PS. Some of the organisations offering resources to the fashion industry include the Kenya Fashion Council (@kenyafashioncouncil_), the Kenya Association of Manufacturers (@kam_kenya), Nairobi Design Week (@nairobidesignweek), HEVA (@hevafund), the Nest Collective (@thisisthenest), AfDB Fashionomics (@fashionomicsafrica), British Council (@eastafricaarts), and Goethe Institut (@goethe_kenya).