Written by Dr Folakemi Ogungbe Creative Partnership Coordinator AHSCE Lagos.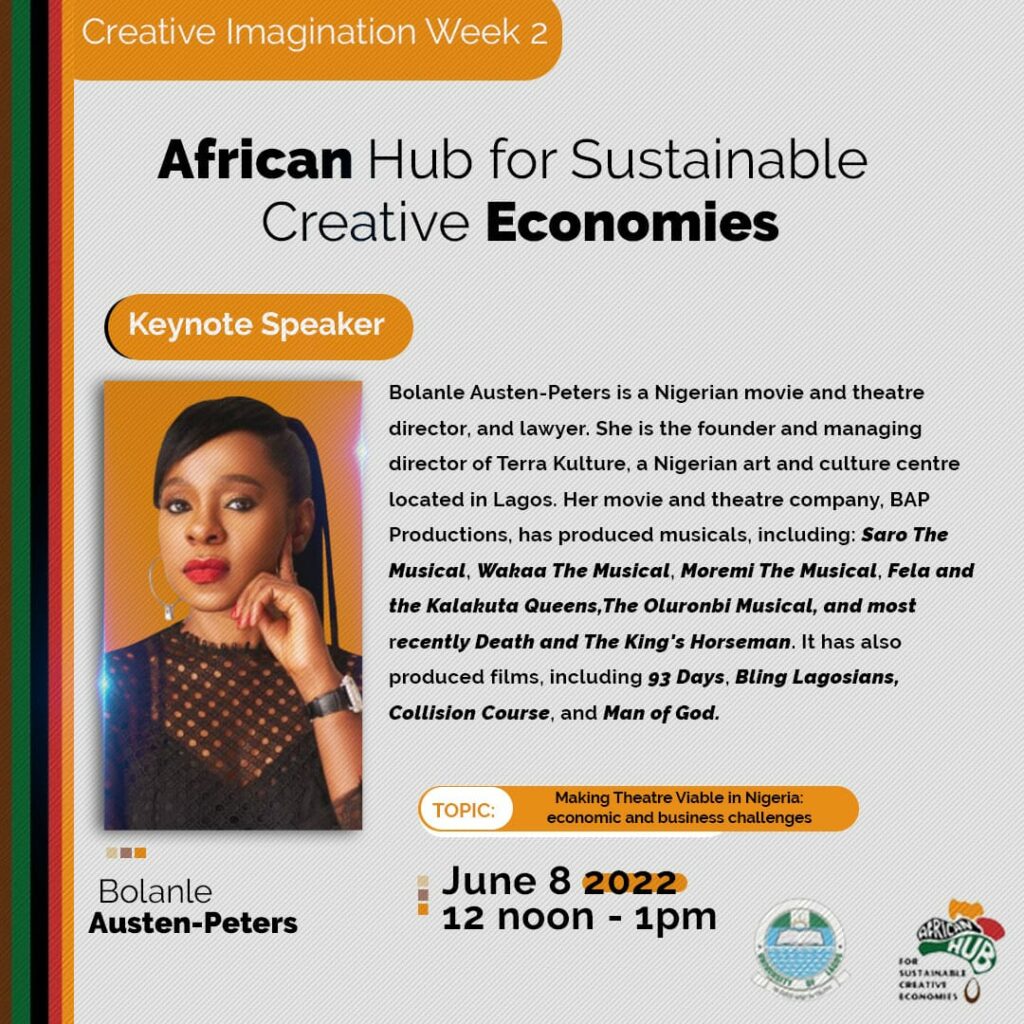 June 10, 2022, was all shades of excitement as the Lagos Hub of the AHSCE held its second Creative Imagination event. Bolanle Austen Peters of B.A.P. Productions gave the keynote. The topic of discussion was Making Theatre Viable in Nigeria: economic and business challenges.
Bolanle took us down memory lane, to about 15 years ago, when she ventured into theatre production. Bolanle, who trained as a lawyer, tells the House that she had always loved the theatre. However, Bolanle, with her board of directors, soon found out that it was expensive to venture into the theatre and there were are a myriad of challenges. The major challenge was finding a suitable space for theatre productions. Most of the hotel event spaces that they got were lined with marble and not suitable for the purpose of theatre. In addition to that the spaces were expensive to rent as they had to do rehearsals and the main theatre performances as well. Bolanle soon realised that this strategy was not viable, so she decided to build a 400-seater theatre in the heart of Lagos to solve this problem. With this theatre, she was able to solve the problem of adequate performance space as well as build a brand around the facility: Terra Kulture. The building of the brand also helped to attract sponsorship, which is extremely difficult in the theatre business because of the limitation of audience attendance.
Bolanle also said that they had problems with getting an adequate workforce. This, they have been able to solve, with partnership from Mastercard Foundation, whereby they started an Arts Academy to train willing people in lighting, set design, animation, projection and so on. They now have some of these trained people, employed in Terra Kulture, which makes their performances easier to achieve.
Bolanle also talked about the fact that they only stage their shows during the holiday seasons: Christmas, Easter, Sallah and co and it was difficult to find audiences off these peak periods. She states that making theatre viable in Nigeria has been quite challenging, but they continue to work around those challenges.
Responding, members of the audience, corroborated her submissions and stated that beyond space-related issues, there is a need for specialisation in the theatre business and collaborations with individuals or companies that may help with distribution. They also explained that consistency is key in business as it helps to build a potent and viable theatre community that is invested in the shows. There is also a need to pay attention to the legal aspects. Awele Dekpe explains that the National Theatre is currently being repositioned to meet the space challenges. The general house agreed that theatre is a tough business in Nigeria and to succeed, there must be collaborations and partnerships, proper distribution strategies and commitment to make it work.