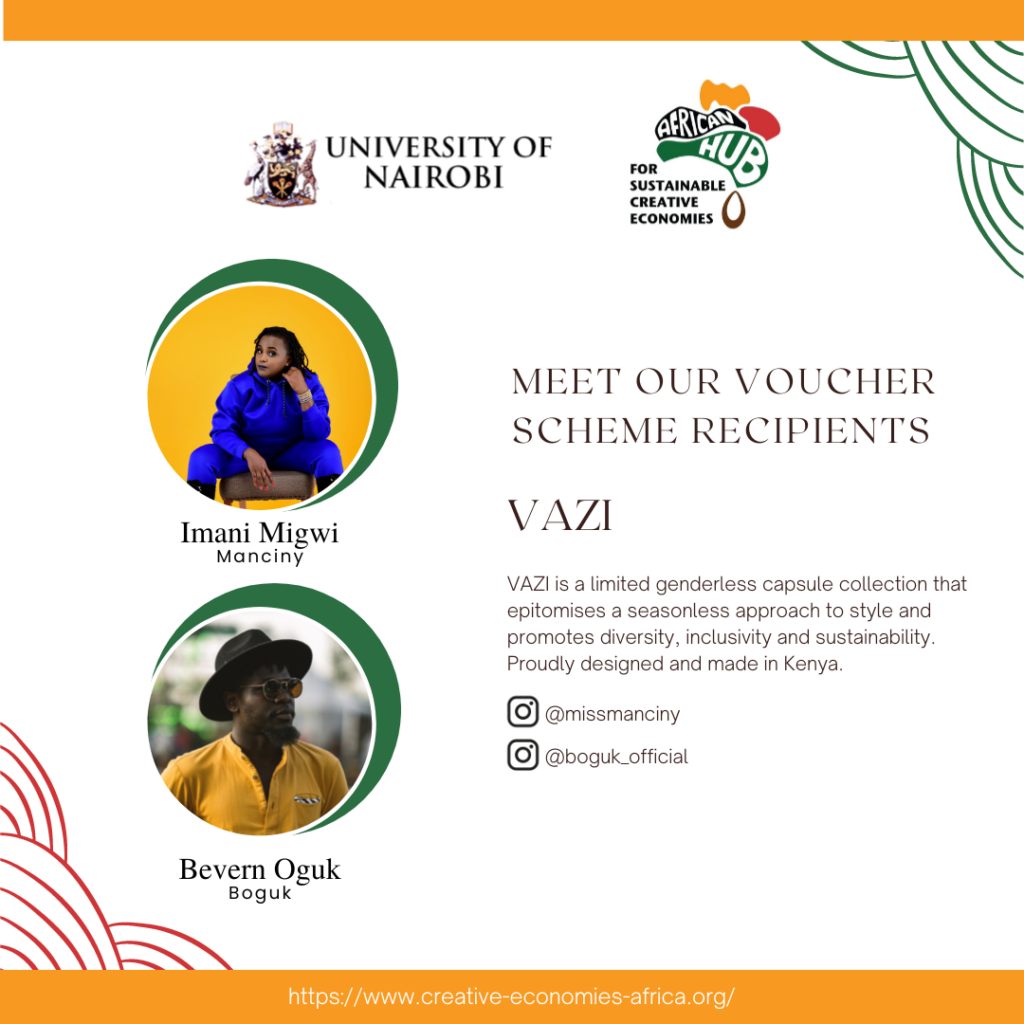 By Waithira Kibuchi
vazi
/vazi/
(Swahili)
garment, item of clothing
also: nguo, kisua
A popular and widespread stereotype in romantic relationships has it that girls never buy their hoodies – they prefer to 'steal' those that belong to their boyfriends. The affectionate gesture enables the couple to maintain an emotional connection even when not around each other. Another factor, however, is at play. Men's hoodies tend to be larger, more comfortable, and more functional (they have pockets!) than those designed specifically for women. It is more socially acceptable for men than women to prioritise comfort over appearance. This binary approach has become more blurred over the past few decades, as men's and women's lifestyles and daily routines have become more similar*. The COVID-19 pandemic further nullified these differences. The stay-at-home protocols that were instituted and upheld for months took away the need to dress up for corporate jobs, parties, and events. Most people began to prioritise comfort and wore gender-neutral items such as sweatpants and hoodies while working from home.
This notion of gender-neutral clothing has implications for diversity, inclusivity, and sustainability in fashion. For the AHSCE Collaborative Voucher Scheme, Imani Migwi and Bevern Oguk proposed VAZI, a limited gender-neutral capsule collection that will embody a seasonless approach to style. The collection will use fabric and style, rather than gender, as the starting point for creative design. The designers are looking to transcend conventional fashion trends by creating timeless, versatile items that can be worn by both men and women. These pieces will challenge some of the stereotypes around gender norms, supporting the wearer's fluid identity and reducing unconscious bias and inequalities. The focus on fabric quality, versatility and timeless style means that the clothes last longer and are more likely to be shared or swapped, therefore contributing to a circular economy.
Imani and Bevern are the lead designers at their respective brands, Manciny Designs and BOGUK. They are both passionate about ethical processes and are interested in creating social impact in the fashion value chain through their work. The collection will be entirely made in Kenya to allow them to oversee and control every step of the production process. They will also be looking to create a profitable and sustainable business model that can provide income to the tailors and artisans involved. They hope to grow the concept beyond a limited genderless capsule collection to a longer-term intervention in Kenya's fashion production system. They would love to create, for example, an organisation that fosters the exchange of skills between fashion designers and artisans and links tailors to their customers. They believe that designers must cultivate responsible production and consumption processes in and through their work.
VAZI offers a study of alternative approaches to fashion production and consumption that can contribute to the growth of the local and regional garment manufacturing industry. Imani and Bevern hope to challenge mainstream models of fashion production with the collection and, with time, replicate their model in collaboration with like-minded creatives across the creative economy in Africa. The AHSCE team is thrilled to support VAZI and cannot wait to see how the project unfolds.
* A Deeper Look at How Men's and Women's Fashion Differ. Retrieved from https://coveteur.com/2020/10/02/mens-womens-fashion-differences/