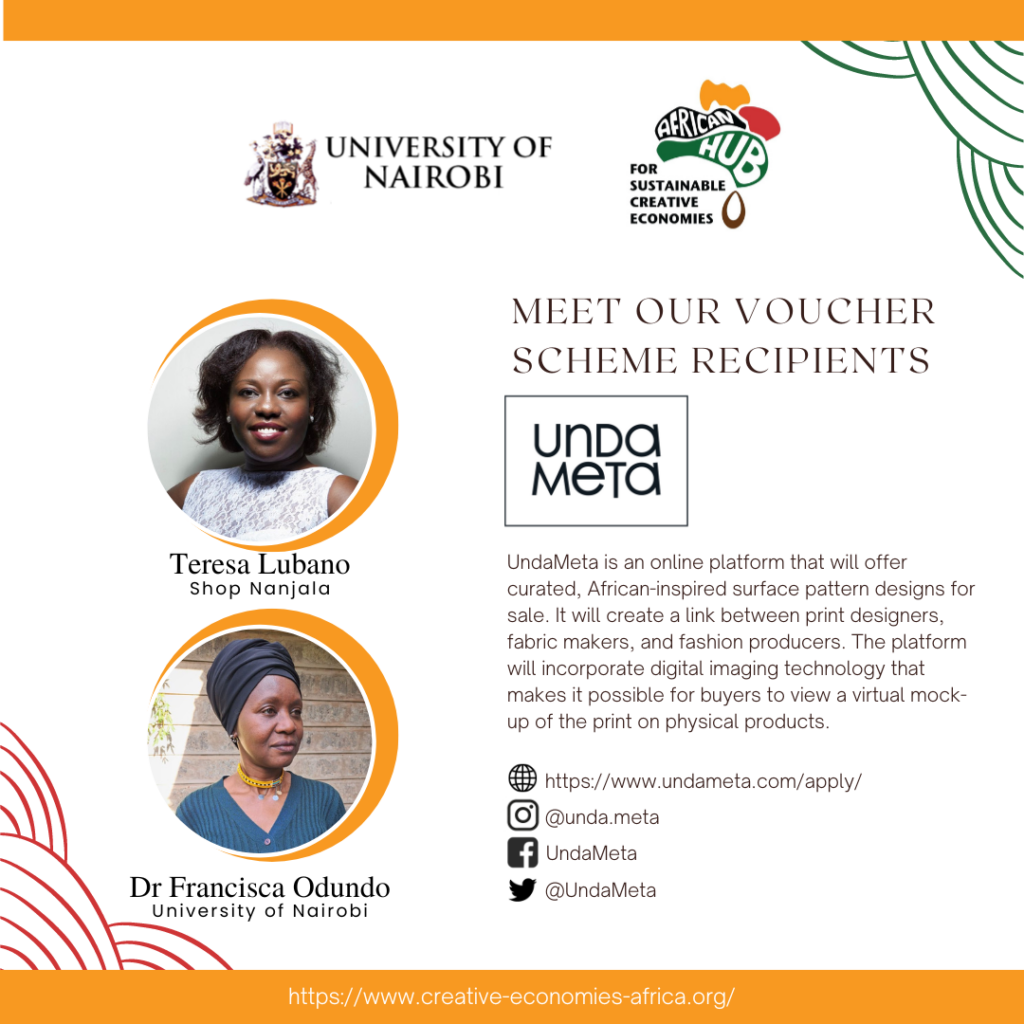 UNDAMETA, A MARKETPLACE FOR AFRICAN-INSPIRED SURFACE PATTERN DESIGN
By Waithira Kibuchi
Ever wonder where the prints and patterns on your clothing came from? Dr Odundo certainly spent many hours as a child observing the prints worn by people around her during Sunday service. She and Teresa Lubano are collaborating on UndaMeta, which was selected for funding under the AHSCE Nairobi voucher scheme. UndaMeta is a 'digital bank' that will curate surface pattern designs for sale. The platform will incorporate digital imaging technology that makes it possible for buyers to view a virtual mock-up of the print on physical products.
Dr Odundo and Teresa have known each other ever since Teresa joined the University of Nairobi for her undergraduate studies. Dr Odundo was her supervising lecturer then, and the two have maintained the rapport they built during that period over the years. They reconnected over their mutual interest in surface pattern design during the final AHSCE Creative Imagination workshop. Each of them had begun exploring the area independently unbeknown to the other. Dr Odundo had been looking into the possibility of printing fabrics for sale under the University of Nairobi Enterprise Services (UNES). Teresa, on the other hand, had begun designing prints for her online home and gardening store, Shop Nanjala and retailing them on the UK platform Contrado. It had come to her notice that the most dominant pattern banks, such as Spoonflower, Patternbank and Society6, are predominantly Western, and therefore, predominantly feature Western-inspired content. Africa's unique and diverse creative culture is underrepresented in this area. Initial research also revealed a disconnect between surface print designers and fabric makers in the local market, which is probably one of the reasons why fashion designers favour plain weaves over commonly available prints whose exclusivity cannot be guaranteed.
UndaMeta will act as a node in a production and consumption network that connects print designers, fabric makers and buyers. It will link the talent and skill of print designers to the technical expertise of fabric makers to create African-inspired fabric that can be used by fashion designers. The platform will offer creatives the opportunity to express their creativity, get paid for it, and distribute their surface design patterns to the public. Fabric makers commissioned to produce the fabric will also earn income and provide employment opportunities to skilled staff, a significant proportion of whom tend to be women. Students get to interact with the project through a practical live lab at the university, learning critical practical skills that will be useful to them in their careers. They will also benefit from the knowledge that is acquired by their tutors as they implement this project.
UndaMeta's business model is inherently sustainable. The plarform will employ innovative digital technology to enable customers to view prints on virtual products before production. This print-on-demand model requires relatively less startup capital and guarantees little to no wastage, unlike the large-volume production practices common to the fashion industry. It also allows the company to run as a small-scale operation with a limited carbon footprint. UndaMeta will have the ability to manufacture products relatively quickly and at a lower cost, making it more resilient economically.
Teresa and Dr Odundo bring complementary skills to the project. Teresa is passionate about design and has worked for over 18 years as an Art Director in corporate advertising. She knows her way around the formal sector and is adept at using the latest technology. She has recently left her corporate job to pursue her Master's degree and intends to transition into academia in the future. Dr Odundo is an extraordinary illustrator who has taught fashion, print and textiles at the University for many years. She hopes that this project will provide her with a platform to showcase what she can do with textiles.
Dr Odundo notes that there is an opportunity for deeper and longer-lasting collaborations between academia and the creative industry. While there have been plenty of academia-industry initiatives in the past, most of them are short-lived and they leave students wondering how to grow their careers beyond designing single products. Teresa observes that the current design curriculum splinters designers into different specialisations, but the needs of the 21st Century require designers to develop transdisciplinary skills. She argues that the world is transitioning from formal employment to a gig economy, and designers in general need to equip themselves with an entrepreneurial mindset, immersing themselves in real-world situations and learning as they go. Executing this project is sharpening Teresa's and Dr Odundo's skills, teaching them how to be resilient researchers and designers. They are working towards uplifting the standard of design in the local market and generating new art history that incorporates the work done by and on platforms such as UndaMeta, challenging the dominant narrative that designers don't exist in this market. As Teresa says, "The challenge is the opportunity!" We could not agree more. The AHSCE is proud to back UndaMeta, and we look forward to seeing how the journey unfolds!