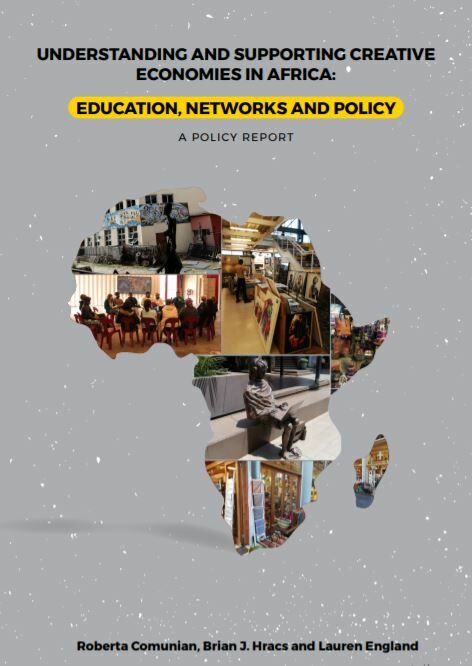 This report (download it for free by clicking on the image) is the result of a previous stage of funded activities as part of an AHRC-funded research network. The report provides a summary of the research journey undertaken, including the methodology and data collected across the three cities involved in the network activities: Nairobi, Lagos and Cape Town. It presents a critical discussion on the role of creative intermediaries, focusing specifically on their contribution to the development of creative economies in Africa.
Eight case studies of creative intermediaries at work are presented under four headings: (1) Creative intermediaries and the role of higher education; (2) creative intermediaries and creative workforce development in action; (3) creative intermediaries, co-working, finance and networks and finally (4) creative intermediaries, communities and development agendas.
The report concludes by highlighting the key role those creative intermediaries can play in connecting development agendas (cultural, social and economic) in Africa. It also presents five cornerstones for policy considerations to enable creative economies to thrive. This includes (1) recognising the value that creative economies bring to communities, society and the economy; (2) recognise the role of creative intermediaries in bringing together policymakers, communities and entrepreneurs; (3) investing in higher education collaborations and partnerships; (4) strengthening continental and international collaborations through research and network building to support knowledge sharing and (5) creating accessible and inclusive infrastructure to support creative economies that are open to everyone.
Finally, we invite anyone interested in understanding these issues in more depth to engage with the books we recently published:
Comunian, R., Hracs, B.J. and England, L. eds., 2021. Higher Education and Policy for Creative Economies in Africa: Developing Creative Economies. Routledge.
https://www.routledge.com/Higher-Education-and-Policy-for-Creative-Economies-in-Africa-Developing/Comunian-Hracs-England/p/book/9781003127802
Hracs, B. J., Comunian, R., and England, L. eds., 2022. Developing Creative Economies in Africa Spaces and Working Practices. Routledge.
https://www.routledge.com/Developing-Creative-Economies-in-Africa-Spaces-and-Working-Practices/Hracs-Comunian-England/p/book/9780367481940