Written by Waithira Kibuchi, Creative Partnership Co-ordinator, AHSCE Nairobi.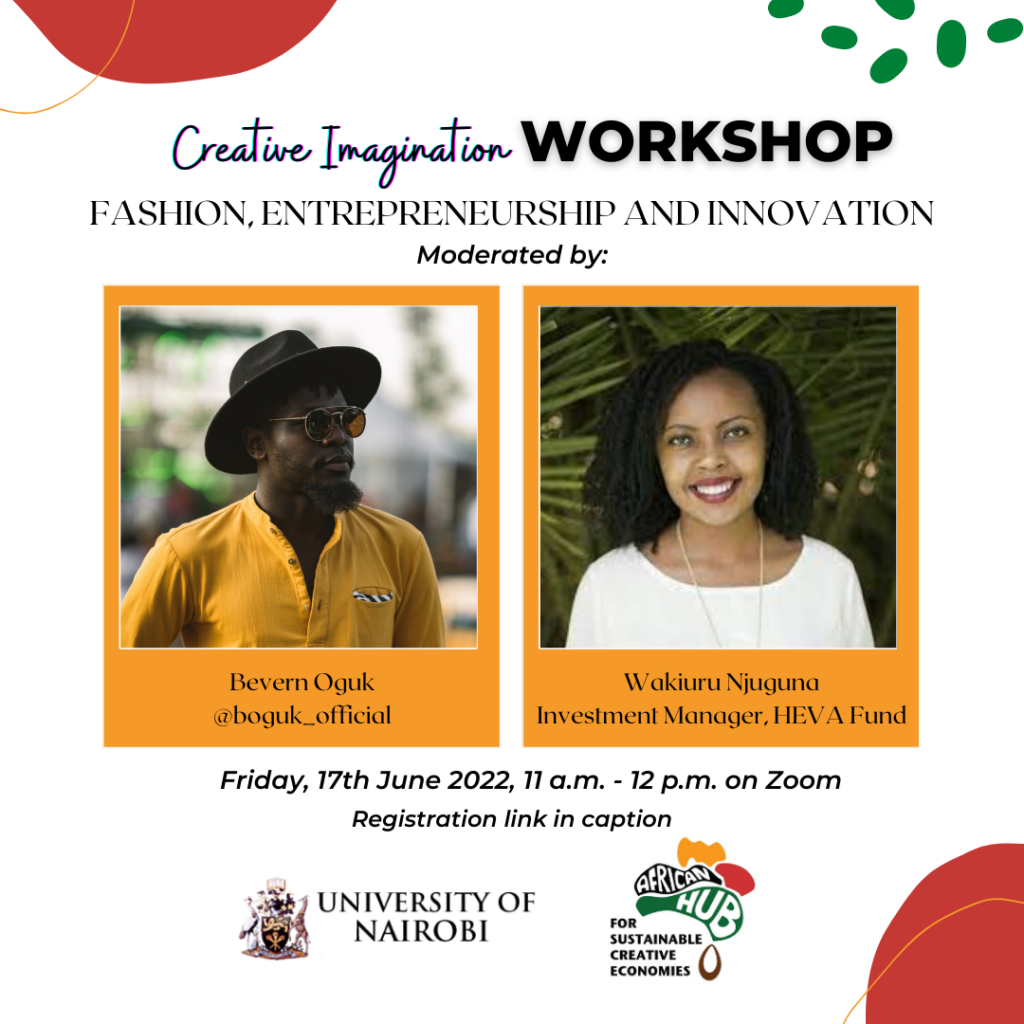 The second themed workshop, held on the 17th of June 2022, focused on entrepreneurship and innovation in the fashion industry in Kenya. The session was moderated by Ms. Ogake Mosomi and featured two guest speakers. Mr. Bevern Oguk is a Creative Entrepreneur and Fashion Designer at Boguk (@boguk_official). He also hosts network and brand experience events under @weplusvibe, merging fashion, food, music, and art to promote Kenyan culture. Ms. Wakiuru Njuguna is Partner and Investment Manager at HEVA Fund (@hevafund) and has developed innovative hybrid financial models to increase access to early and growth stage business capital to entrepreneurs.
The design and apparel manufacturing segment in Kenya consists of small and micro enterprises, and this has led to the emergence of unique, profitable, and sustainable niches. Kenyan fashion designers have the ability and opportunity to respond to the needs of both the local and untapped regional African fashion market by leveraging their knowledge of culture, style preferences, and sizing. It would benefit fashion entrepreneurs to set up shared spaces that would facilitate knowledge exchange.
African fashion designers are, indeed, not short of ideas – they have a vibrant culture and are receptive to new styles. Business skills, however, are lagging, and most designers struggle to convert creative ideas into viable fashion businesses. Advancements in technology make it possible to overcome some of these challenges and implement demand-centric production. A good example is Boguk's Made-to-Order business model, which involves making a few samples, marketing them, and going into production based on total orders received.
Some of the other themes that emerged from the discussion were factors contributing to sustainability and how to raise business capital. The sustainability of a business may be assessed by considering three main aspects: Planet, Profit, and People. Is the business aware of its environmental impact? Is it producing enough to take care of its obligations and grow? How does it relate to its suppliers, employees, and consumers? In Ms. Njuguna's experience, clarity on these aspects is directly related to long-term business success. She also revealed the key elements considered when evaluating funding applications at HEVA. These include the entrepreneur – do they have passion, drive, and vision? Does the entrepreneur have access to specialised business support services, such as accounting, law, and strategic advice? Does the entrepreneur understand the workings of their business? Does the entrepreneur have formal, up-to-date financial records of the business? These elements altogether lead to the creation of a strategic plan that can be evaluated and implemented.
Participants also reflected on the issue of brand differentiation. What makes a brand unique? It is clear is that no two brands have the same story. What differentiates one brand from another is the unique individual behind it. Entrepreneurs must not let the perceived market saturation deter them from starting their own brand – they ought to do it anyway and learn as they grow.
PS. Heva Fund is Africa's first dedicated finance, business support and knowledge facility for the creative industry. The organisation has conducted various research projects over the years to help cover knowledge gaps in the industry. Anyone looking to access specific research may request access by emailing HEVA at admin@hevafund.com.
Links to websites:
BOGUK Official https://shopboguk.com/
HEVA Fund https://www.hevafund.com/