Written by Dr Folakemi Ogungbe Creative Partnership Coordinator AHSCE Lagos.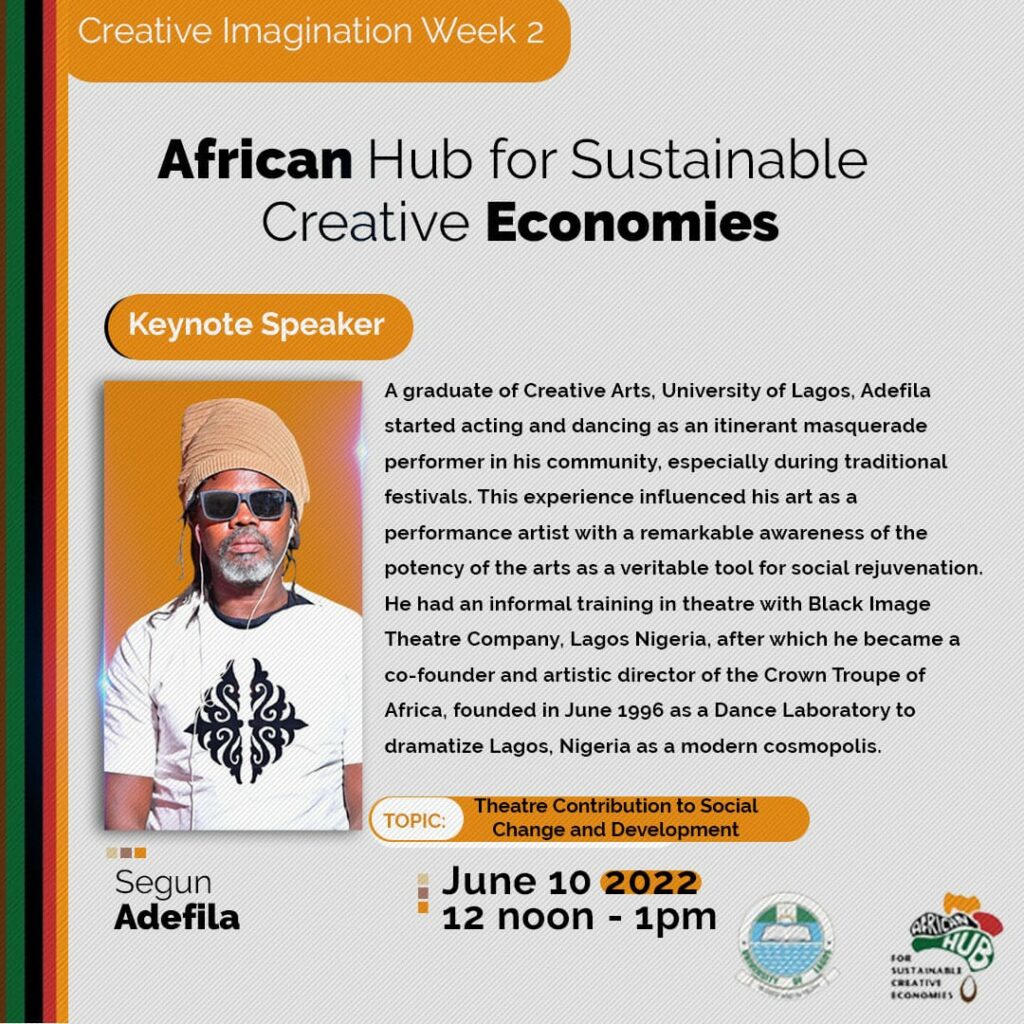 The 4th event of the AHSCE, Lagos Hub, was as colourful as the masquerade Segun Adefila adorns during festivals. Segun Adefila, a masquerader, theatre artist, dancer, poet and thinker, is the co-founder of Crown Troupe of Africa, a Theatre-for-development company and Arts Academy, based in the educational Hub of Barig, Lagos. Bariga is indeed the home of several theatre companies, numbering about 60 which constitutes what is called the Bariga Theatre Hub.
This Hub has engaged the youths of the community in active theatre participation and has converted otherwise street soldiers into theatre performers. This feat, which has been achieved through individual and collective efforts of the companies that make up the Hub, has ensured gainful employment, active engagement with the Youth of Bariga and environs and exportable Theatrical content.
Segun, who sees Theatre more as a social crusade, therapy and for reconstruction of morals, says the purpose of Theatre should not be merely for tourism or other elitist ideals, rather, it should actively engage in shaping social constructs and enabling meaningful and thought-provoking dialogues. Arts should not be for Arts sake, but for life's sake. Segun says Crown Troupe is doing to Theatre, what Fela Anikulapo Kuti did to music. Theatre must entertain, document and inform.
The event was indeed star-studded as we had Jahman Anikulapo of Freedom Park, Omoba Jerry Adesewo of Arojah Theatre Abuja, Dr. Affiong of the University of Calabar, who is a crusader for prison theatre, Seun Awobajo of Footprints of David and Joshua Alabi of Kininso Theatre, both Bariga-based theatres centered around theatre for development.
Participants at the event commented that there must be an ultimate marriage of the town and the gown, especially where theatre-for-development is concerned. Interestingly, the University of Lagos is situated in Bariga and the Bariga Theatre companies are next door neighbours. This is supposed to bring about interesting partnerships and collaborations. 
Ultimately, whether as therapy, entertainment or social engagement and reconstruction, theatre is for the common man and the performances at these theatre events thin out the line between the actual performers and the audience, as the audience becomes active performers in the theatre.
Speaking of evaluation, theatre for social change and development gets meaningful feedback from the number of youths whose lives have changed through their engagement with the Bariga theatres. The evaluation is evidenced in the success story of these theatres. The participants call on other communities within Lagos and across Africa, to emulate the Bariga experience!